I Am Stronger Than HIV: Results From the 2nd Annual HIV In America Survey
From keeping track of doctor visits and blood work to dealing with social stigma, it is normal to sometimes feel overwhelmed while managing HIV/AIDS and its challenges. However, overcoming these challenges is something to celebrate when living with HIV/AIDS.
Read these results from our 2nd Annual HIV In America Survey and learn how community members are taking back their power from HIV.
I am in control
HIV care involves taking care of the body and mind. About 96 percent of community members changed their health habits after receiving an HIV diagnosis. This included seeing their doctor more regularly, keeping up with vaccines, reducing stress, and exercising.
Treatment is just 1 part of living a long and healthy life while HIV positive. Although 75 percent said it is easy to take medicines when they are supposed to, 90 percent shared that their viral load is currently undetectable as of their most recent blood test.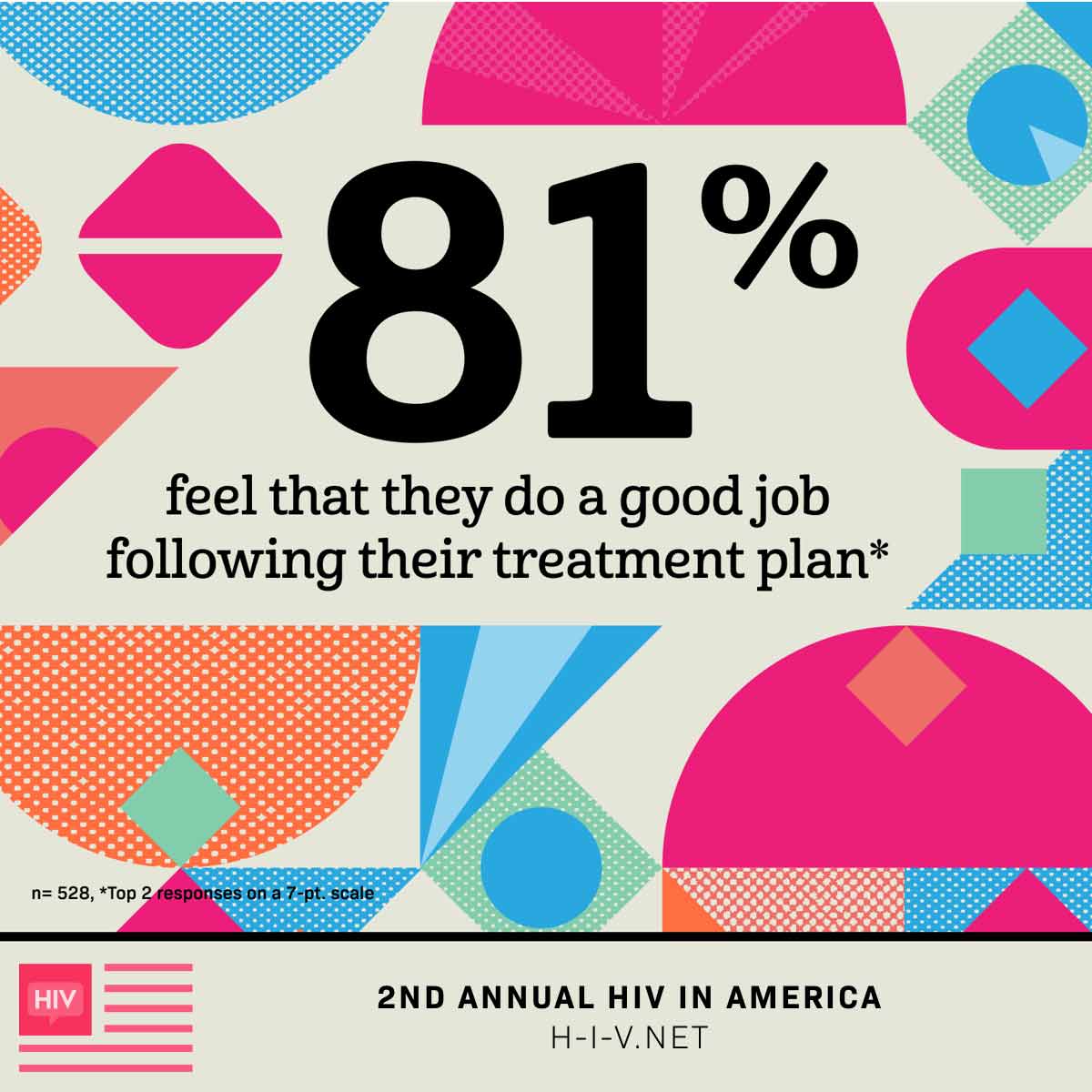 Ready to connect
Social stigma surrounding HIV/AIDS continues to be a huge problem. Roughly 47 percent* of people who took the survey expressed feeling judged for being HIV positive. This is why connecting with other people who are living with HIV/AIDS, whether online or in-person, is critical. As 1 person shared: "I've met some wonderful individuals who have shared their experiences with me."
How do people prefer to connect online? About 85 percent are interested in connecting online, with 41 percent preferring to connect anonymously and 41 percent preferring to use their real name. The remaining 3 percent? Well, it just depends on the scenario!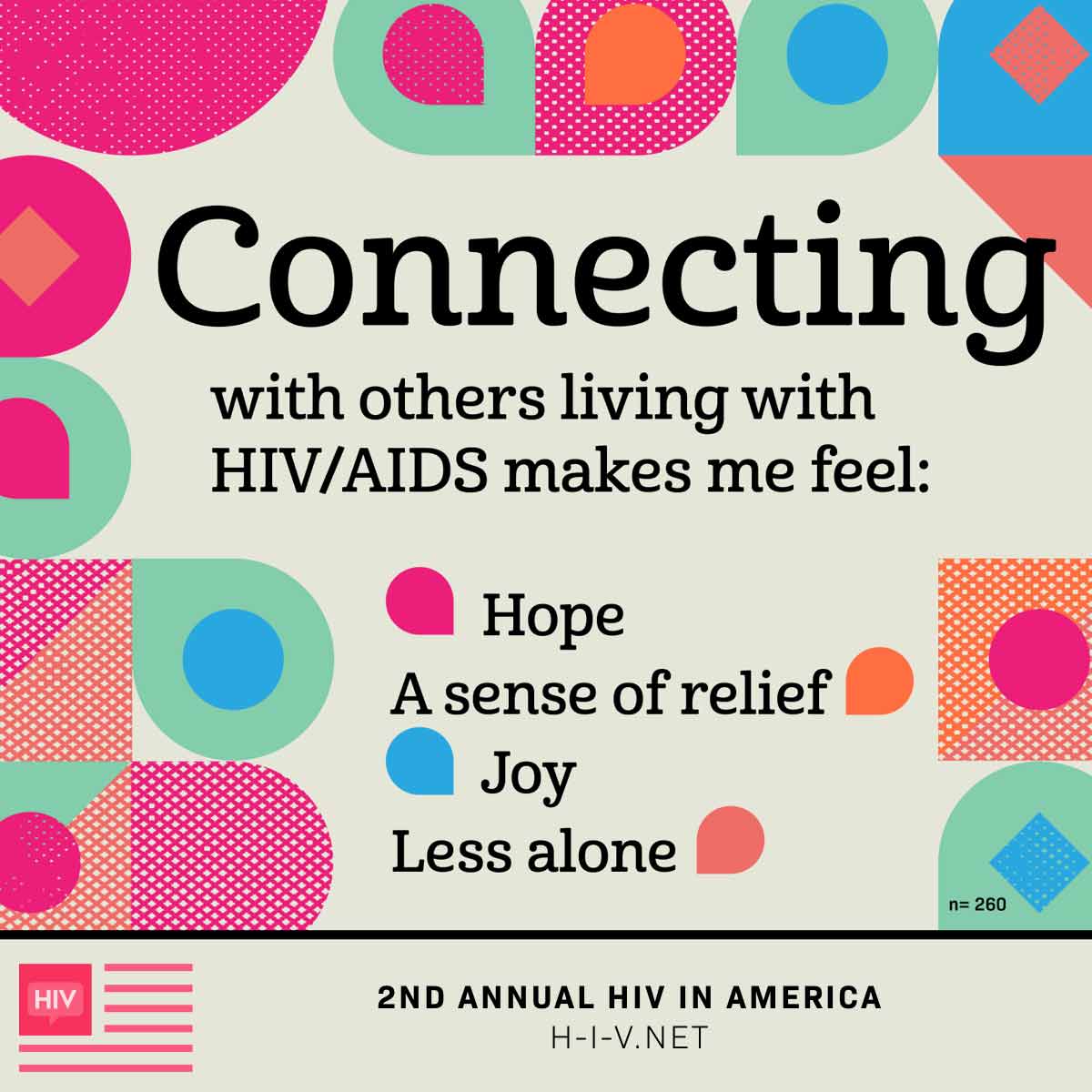 Knowing when to ask for help
We are never too strong to ask for help from our support circles. As mentioned earlier, treatment is just 1 aspect that plays a role in improving quality of life. About 56 percent of survey respondents shared that they need some type of support, with emotional support being the most common (48 percent).
Why is this the case? Living with HIV/AIDS brings a few challenges: medication side effects, dealing with the loss of friends in the community who have passed away, changes in mental health, financial hardship, and dating/finding love.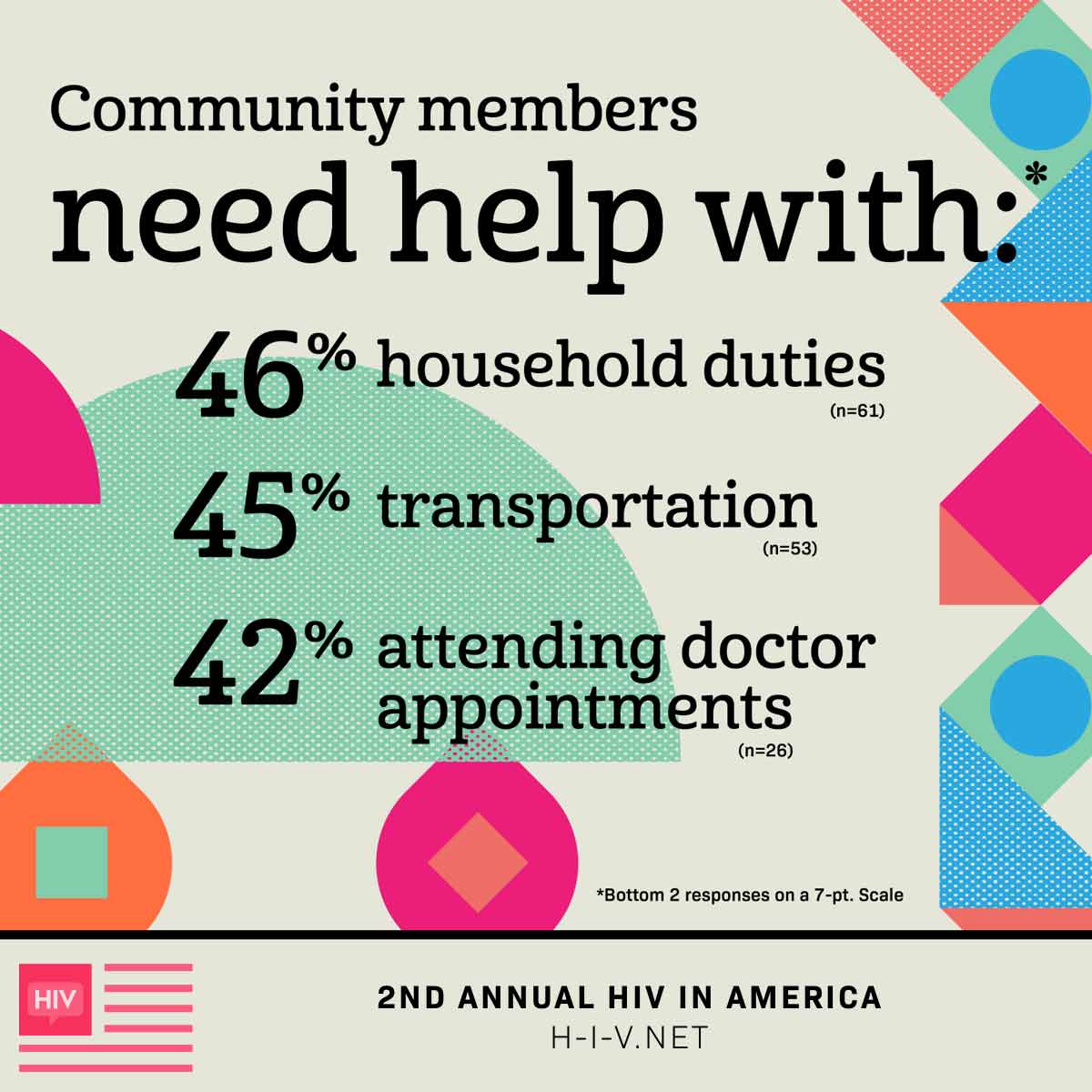 My doctor and I are a team
Part of feeling in control of our health is having the support of our healthcare team. Physicians who treat HIV include infectious disease doctors, an OB/GYN who specializes in HIV care, or a general primary care provider.
Roughly 81* percent of people rely on their doctor's recommendations regarding treatment and medicines. However, there is still more work that needs to be done. Only 58* percent agreed that their healthcare provider regularly discussed quality of life concerns.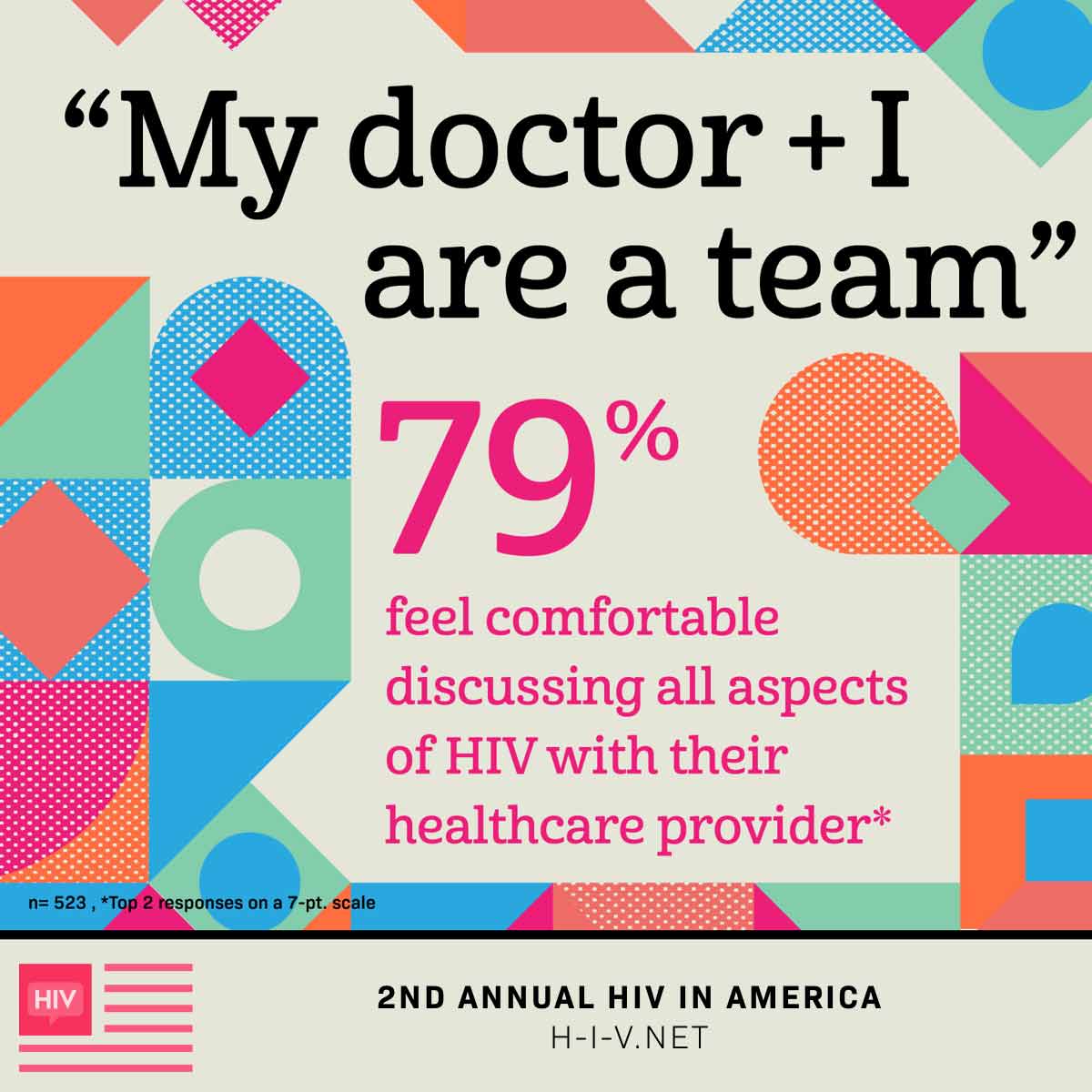 Making the most of every moment
Every day, we are doing our best to live our fullest and most authentic life. Despite concerns about long-term side effects of treatment or long-term impacts of HIV on the body, this community remains hopeful.
About 42 percent* actively seek out information about the latest HIV treatments and 63 percent are interested in participating in clinical trials in the future. As one community member states, "...once I realized that my HIV was well-managed, I realized that I didn't have to let it define or dictate my life..."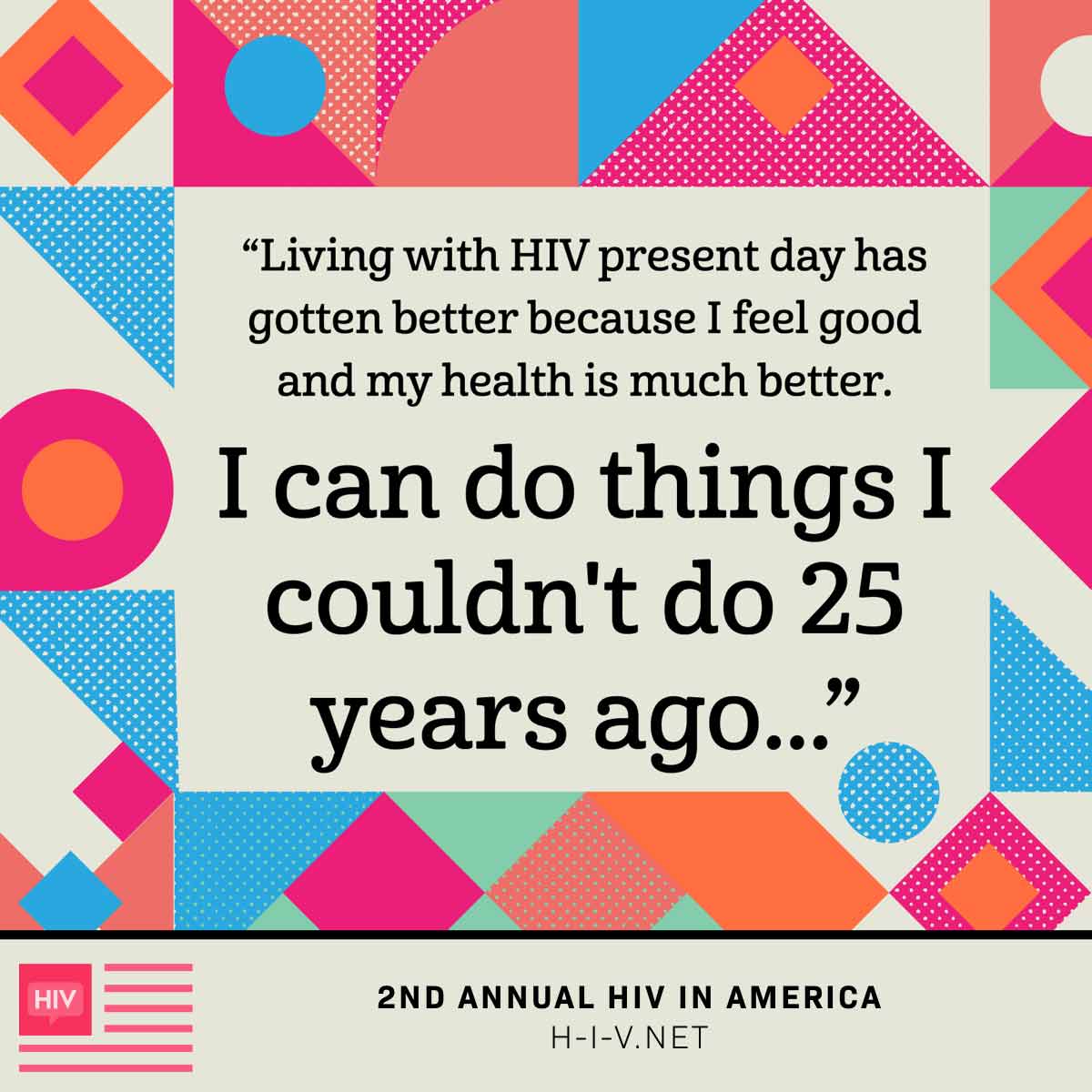 *Top 2 responses on a 7-point scale
Want to help others?
Sharing your personal journey with HIV/AIDS is one way you can lend support to this online community! Whether you are recently diagnosed or further along in your journey, we want to hear from you. Click the button below to share your personal experience of living with HIV/AIDS.
The 2nd Annual HIV In America survey was conducted online from May through September 2020. A total of 528 people completed the survey.

Community Poll
Do you live in the Southern US?