The Importance of HIV Treatment: Results from the 2019 HIV In America Survey
Starting and continuing treatment is one of many important aspects of living with HIV. Although there currently isn't a cure for HIV, antiretroviral therapy (ART) is helpful in attaining viral suppression (reducing the viral load to an undetectable level). ART also allows people to live longer lives with fewer HIV-related complications and also prevents progression to late-stage HIV infection (also known as AIDS).
Access to life-saving treatment options like antiretroviral therapy varies due to many factors including, but not limited to, socioeconomic status. Much work still needs to be done to improve access to HIV medications and social services. It is our hope that highlighting the importance of HIV treatment can reflect one of many factors that is essential to improving the quality of life for people living with HIV.
Addressing HIV stigma and fear
An HIV test is the first step to knowing your status and starting treatment if you receive a positive test result. Unfortunately, stigma and fear prevent many people from asking or receiving an HIV test. Specifically, many people fear that their friends or family may treat them differently if they were to receive a positive test result.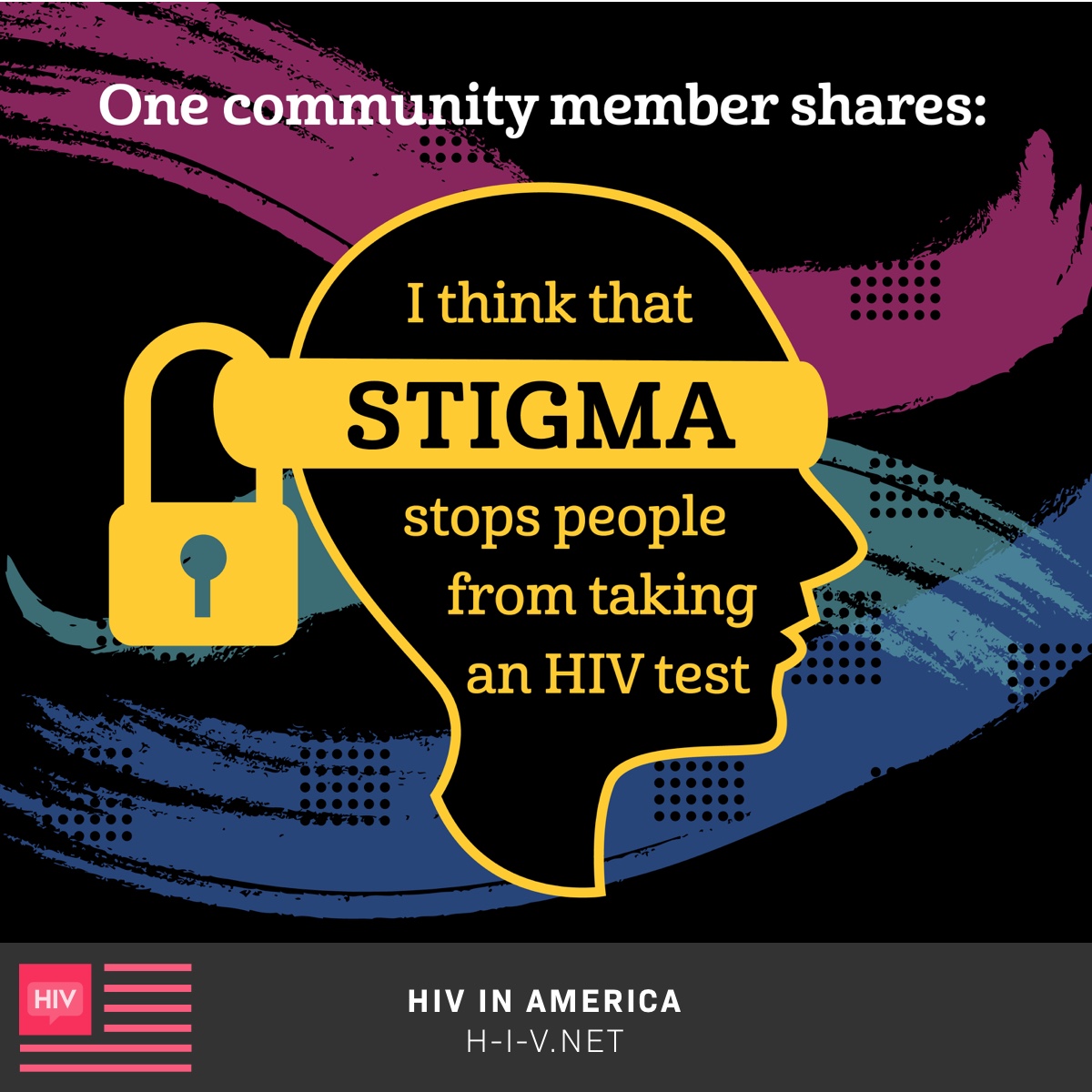 Starting HIV treatment
Guidelines for starting HIV treatment has changed since the first HIV medications were developed. Previous guidelines advised the start of treatment when a person's CD4 count fell below a specific level. However, if a person was HIV-positive and also had a low CD4 count, they could develop life-threatening conditions like an opportunistic infection.
Research has found that starting HIV treatment soon after an HIV diagnosis is essential. Starting HIV treatment after diagnosis improves the body's ability to suppress the virus, maintain a healthy CD4 count, and lead to better health outcomes.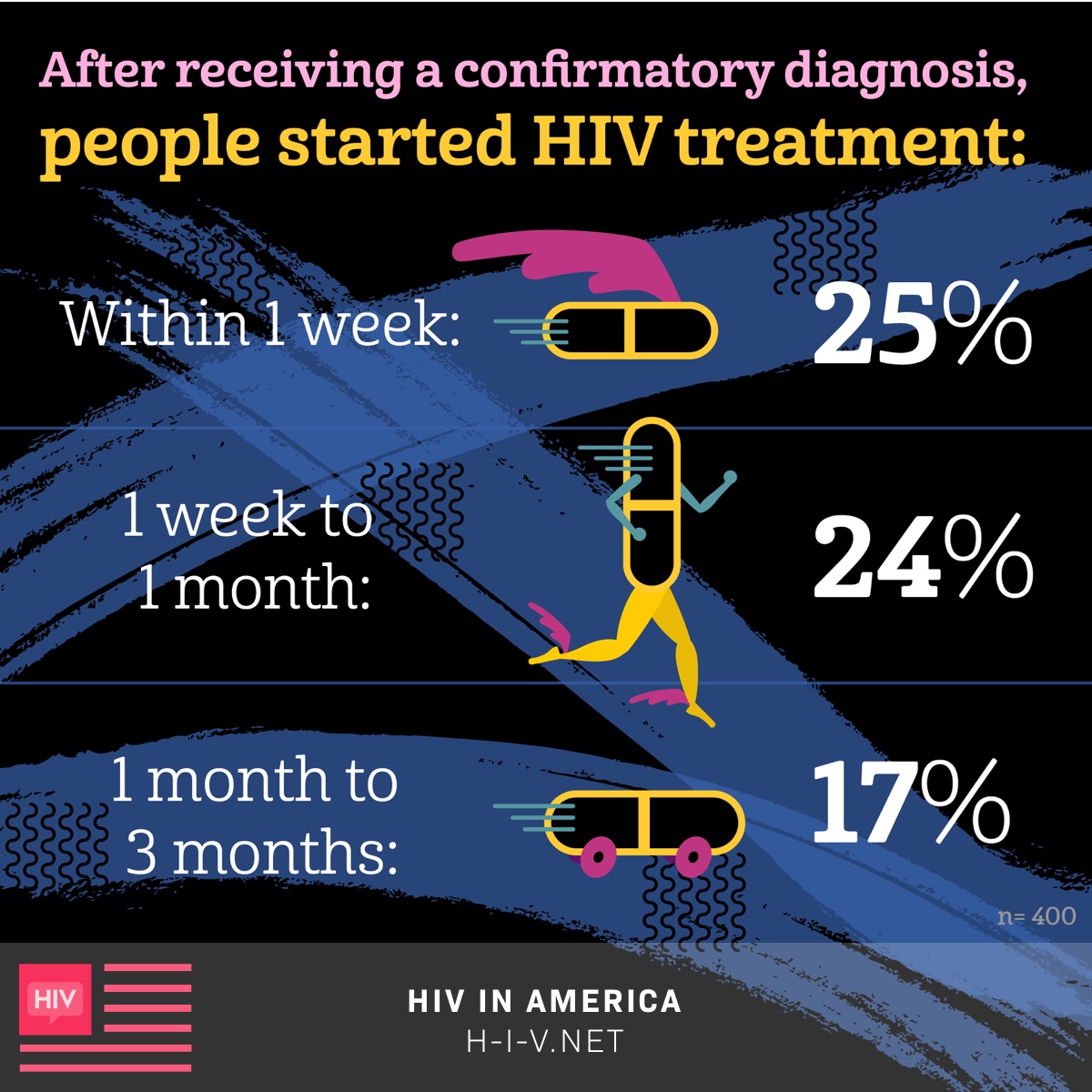 Common factors that influence HIV treatment
The decision to start treatment can sometimes be overwhelming. Aside from their doctor's recommendation, there are a few factors that many people take into account when considering HIV treatment options.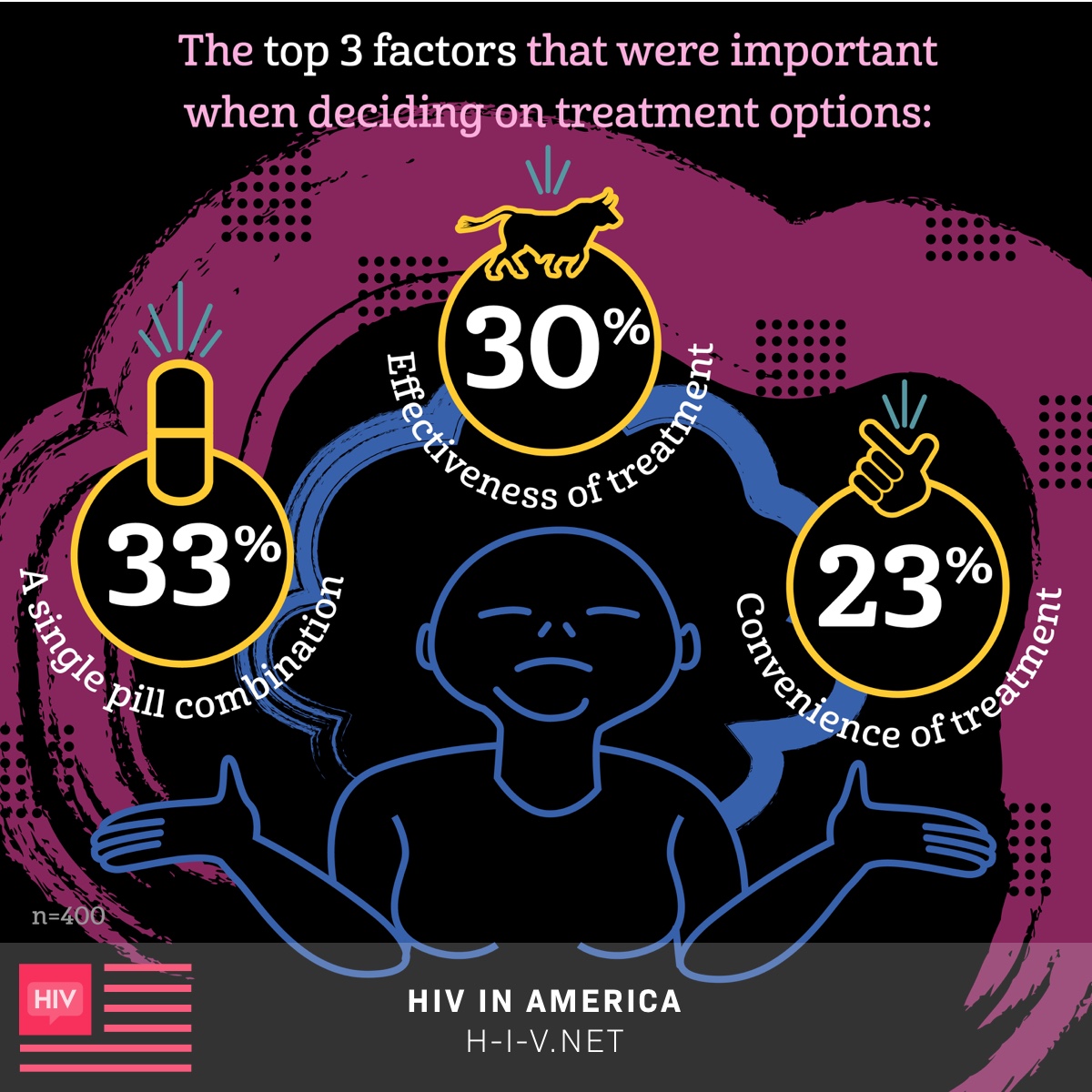 Feeling in control of your health
Receiving an HIV diagnosis is life-changing. As with any chronic condition, starting treatment can be an empowering step to feeling in control of one's health and managing HIV symptoms. Although 61 percent of the community feels in control of their health, 69 percent agree or strongly agree that they feel confident that they are doing all things necessary to manage their HIV symptoms.
Moreover, of the people currently in treatment, 74 percent agree or strongly agree that they play an active role in making decisions about their HIV treatment plan. 89 percent agree or strongly agree that their condition is under control with their current treatment plan.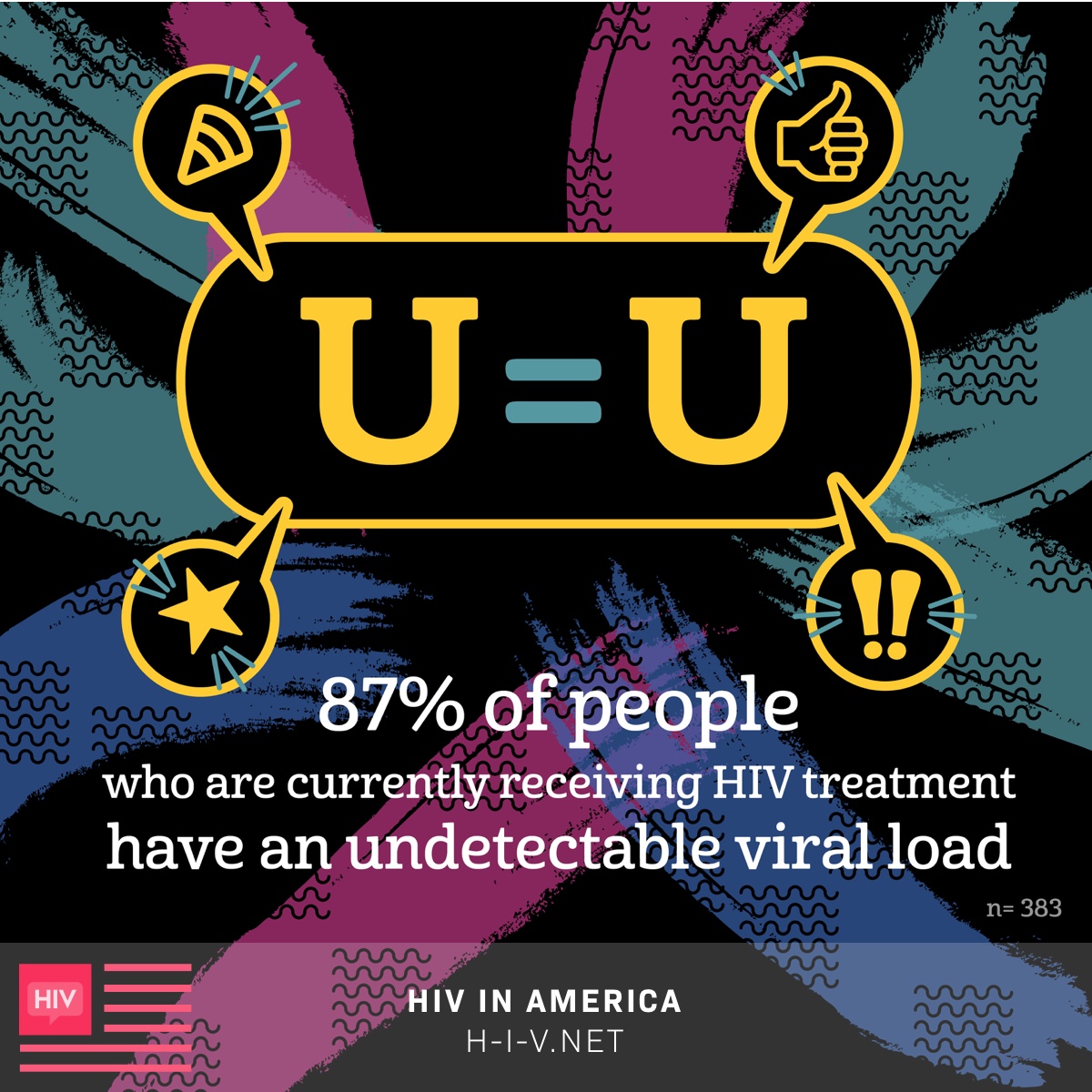 Emotional support is still important
Although treatment is an important part of living with any chronic disease, other aspects are important to maintaining a well-balanced, quality of life with HIV. For example, 63 percent of community members are trying to make or have made lifestyle changes since receiving an HIV diagnosis.
However, the negative perception of people who are HIV positive is still an issue: 48 percent feel like people judge them for being HIV positive. Many individuals who are HIV positive have also felt stigmatized by their sexual partners (27 percent), friends (24 percent), and social media (18 percent). As a result of frequently being misunderstood by those who are important to us, having proper mental and emotional support is essential.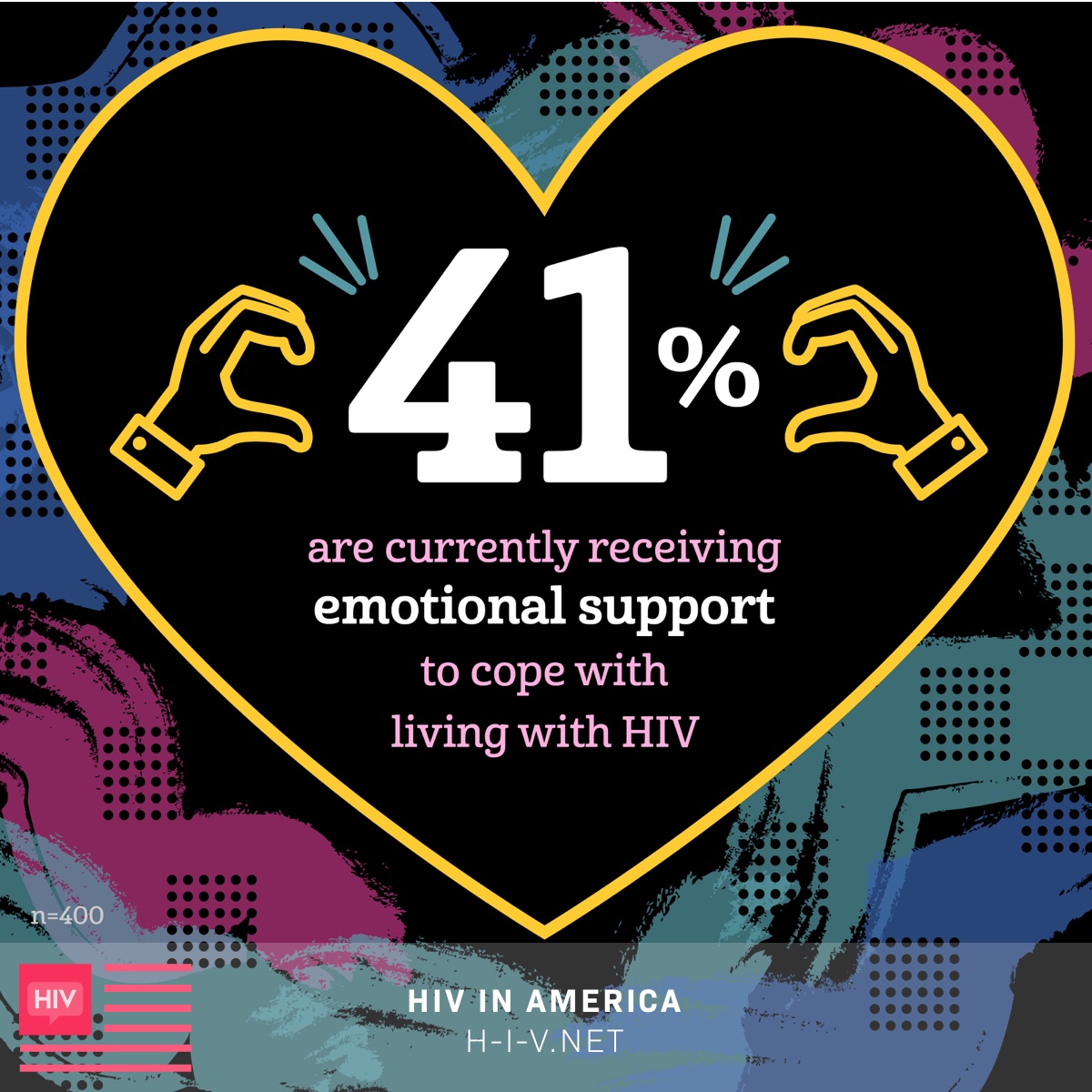 H-I-V.net is here to provide support!
Here at H-I-V.net, we understand that living with HIV involves more than finding treatment. Due to the fear and stigma than encompasses HIV/AIDS, we aim to provide a judgment-free online space where everyone living with this chronic condition can share their experience. In sharing our experience, it is our hope that we feel less alone.
The HIV in America 2019 survey was conducted online from July through September of 2019. A total of 400 people completed the survey.
This article represents the opinions, thoughts, and experiences of the author; none of this content has been paid for by any advertiser. The H-I-V.net team does not recommend or endorse any products or treatments discussed herein. Learn more about how we maintain editorial integrity
here
.

Community Poll
Do you live in the Southern US?